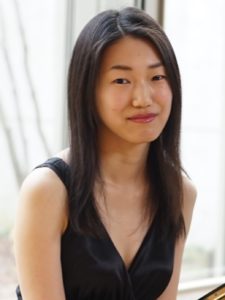 Pianist Mio Arai, currently resides in Cleveland, Ohio where she performs with a wide range of musicians and ensembles in the Northeast Ohio region. A native of Kanagawa, Japan, Mio began studying the piano at the age of four. While her career began as a solo performer, she has found her true passion in working as a collaborative pianist.
Mio holds a Bachelor of Music from the Senzoku Gakuen College of Music in Japan where she studied with Sumiko Hioki. Her studies continue in the United States at the Cleveland Institute of Music where she is completing a Professional Studies Diploma. Mio has studied with a number of great artists including Anita Pontremoli (collaborative piano), Joela Jones (orchestral piano), Christopher Bagan (harpsichord), and Karel Paukert (organ). Additionally, she has participated in masterclasses with Susan Graham, Warren Jones, Nancy Ambrose King, Hansjörg Schellenberger, and François Leleux. In addition to her work as a collaborative pianist, Mio also performs on harpsichord and organ, as well as oboe and baroque oboe.
As a performer, Mio has worked with a wide range of instrumentalists, singers, choirs, orchestras, and various other ensembles. Currently, she enjoys her role as the principal pianist of the Cleveland Institute of Music Orchestra, performing regularly at Severance Hall in Cleveland, Ohio. Other notable performances include a selected pianist for the Yamaha Ginza New Generation Piano Concert. Mio also performs as the pianist of the Firelands Symphony Orchestra, the Cleveland Pops Orchestra Chorus, and the Cleveland State University Choir. She was awarded a full scholarship to perform at the Kent Blossom Music Festival in 2016, as well as the 2016 Art Song Festival at Baldwin Wallace University.