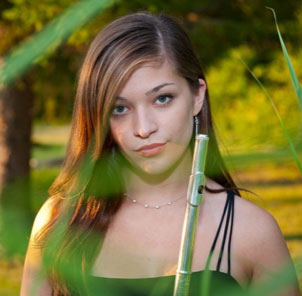 Flutist, Audrey Whartenby, is a Professional Studies student at the Cleveland Institute of Music studying with Joshua Smith of The Cleveland Orchestra. She is an avid chamber musician at CIM, taking part in the competitive Intensive Duo program and seeking out many chamber groups outside of her degree requirements. She enjoys playing piccolo and has studied with celebrated piccoloists Mary Kay Fink and Rhian Kenny.
Different from many flutists, Miss Whartenby plays on a Nagahara wood head joint and pursues an untraditional career with the FiveOne Experimental Orchestra, where she regularly premieres new music by local composers, beatboxes, and improvises. She has appeared as a featured soloist on several occasions including performances with the McKeesport Symphony Orchestra and the University Circle Wind Ensemble. She also performs with the CIM Orchestra and the University Circle Wind Ensemble.
Miss Whartenby is an active member of the Cleveland community with regular performances at retirement communities through the professional music fraternity at CIM, Mu Phi Epsilon, where she has served as both President and Vice President. She also teaches flute lessons at the Cleveland School of the Arts and volunteers with the TrueNorth Chamber Orchestra.