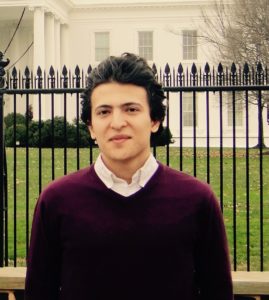 A Syrian violinist who was invited to many masterclasses and workshops in Europe, Russia, and the United States"
Salam Karahawa was born on the 6th of January 1995 in the old city, Damascus, Syria. He started learning the violin with his uncle Nazeer Hanana and soon after that with Nouras Hanana. In 2007, he was invited to perform with few other students from Damascus in Marseille, France. He had participated in the both American Voices Summer Academy programs in Syria, 2010 and in Lebanon, 2014. He was the concertmaster of the Syrian Youth orchestra from 2009-2011. He performed as a member of the orchestra in Russia, 2010, Qatar, 2011 and Jordan, 2011.
As a volunteer, Salam played in Syrian hospitals for injured people during the war in Syria because he believed that the music has the power to cure people. In 2014 he was the recipient of the American Voices' scholarship to study English in Saint Louis University and play with Saint Louis Symphony Youth Orchestra and study with Marc Thayer. Salam now is a violin performance major at Oberlin Conservatory studying under David Bowlin.
Salam wishes that with music we can stop all the violence that is happening constantly in the world.