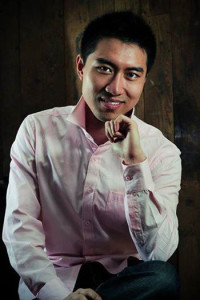 Born and raised in Beijing, China, Rixiang Huang is the 2016 gold medal winner of the New York International Artists Piano Competition and is praised by audiences and critics for his superb artistry and passionate, charismatic performance style on three continents. Mr. Huang's performances have earned high accolades of audiences and critics alike. The Voice of North Carolina wrote of his performance "… Rixiang Huang, who gave a bang-up performance…He was brilliant and rose to every challenge of this difficult piece." (Prokofiev Third Piano Concerto)
As an avid performer, Mr. Huang's highlights include solo performances in preeminent international concert venues such as Carnegie Hall, Japan Hamamatsu ACT Concert Hall, Indonesia Aula Sinfonia Jakarta, Brunswick Concert Hall in Germany, Spain Torrelodones Teatro Bulevar, China National Center for the Performing Arts, and the Beijing Concert Hall. Additionally, he has appeared as a guest soloist with orchestras around the world including China National Symphony Orchestra, Indonesia National Symphony Orchestra, and Eastern Music Festival Orchestra. His performances have been broadcast by WCLV, China Radio International, and Radio Online Indonesia.
Mr. Huang has been a featured artist at the International Piano Festival at Torrelodones, Spain, the KAWAI International Piano master class, Bowdoin International Music Festival, Art of the Piano at the University of Cincinnati, Chautauqua International Music Festival, and Pianofest in the Hamptons as one of twelve pianists in the world. He has performed in master classes with Sergei Babayan, Jerome Lowenthal, John Perry, Andrea Bonatta, Jean Efflam Bavouzet, Stephen Hough, Vladimir Feltsman, Boris Slutsky, and many other world-renowned pianists and pedagogues. As an avid chamber performer, he was selected to participate in the Advanced Piano Trio Program at the Cleveland Institute of Music, directed by cellist Sharon Robinson of the acclaimed Kalichstein-Laredo-Robinson Trio.
As a worldwide prizewinner in numerous competitions, Mr. Huang has been awarded top prize in other international piano competition such as New York International Artists Piano Competition, Asian Classical Music Competition in Japan, Eastern Music Festival's Young Artist Piano Competition, and Piano Concerto Competition in America. He also won silver medal in the Fifth ASEAN International Concerto Competition (AAF), second prize in the United States Virtuoso International Piano Competition, and third prize in the 56th Grotrian-Steinweg International Piano Competition for Young Pianists.
Mr. Huang is currently pursuing a Master of Music in Piano Performance at The Juilliard School where he is studying with Matti Raekallio. Previously, he worked with world-renowned pianists Antonio Pompa-Baldi and Paul Schenly at The Cleveland Institute of Music, where he was awarded the Arthur Loesser Memorial Prize for outstanding achievement in piano performance.
For more information, please visit: http://www.rixianghuangpianist.com/