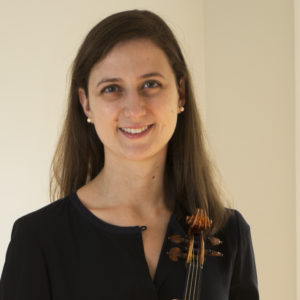 Violinist Nina Sandberg is currently Artist in Residence at Judson Park in Cleveland, OH. She made her solo debut with the Fort Bend Symphony Orchestra as winner of their Concerto Competition. She won second place in the Houston Civic Symphony Concerto Competition, and was a finalist in the Houston Symphony Concerto Competition.
Nina holds a Bachelor's degree from the Cleveland Institute of Music (CIM), where she is currently pursuing her Master's in Violin Performance. She is a student of Jan Mark Sloman and previously studied with David Updegraff and Kenneth Goldsmith. Nina has performed in masterclasses for Donald Weilerstein, Rodney Friend and the Leipzig String Quartet, and has also attended the Meadowmount School of Music, Foulger International Music Festival, International Festival at Domaine Forget, Green Mountain Chamber Music Festival and Madeline Island Music Camp.
She has served as concertmaster of the CIM Orchestra, and has participated in the Intensive Quartet Seminar for two years as a member of the Zeitlin String Quartet. She participated in the 2015 Robert Mann String Quartet Institute and the Fischoff National Chamber Music Competition. She has also performed on professional chamber music series in collaboration with faculty members at CIM and the University of Houston.