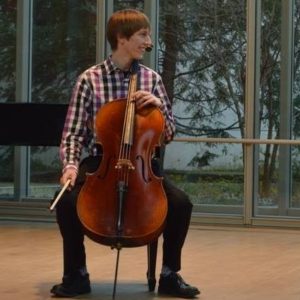 Kellen Degnan started playing the cello when he was five years old. He grew up in Grosse Pointe, Michigan, where he joined his first youth orchestra program—the Detroit Symphony Civic Youth Ensembles—in sixth grade. Since then, he has avidly pursued a career in musical performance. During his high school years, he attended several summer festivals, including the Madeline Island Music Camp and the Chautauqua Institution, where he developed a profound love for chamber music.
Kellen attended the University of Michigan in Ann Arbor, where he studied with Anthony Elliott. He also performed in several masterclasses with cellists such as Alisa Weilerstein and Carter Brey. During his time at University of Michigan, Kellen avidly pursued his interest in chamber music, performing in as many chamber ensembles as he was able. In 2013, he was a co-founder of the Broadway Trio, a clarinet trio which performed regularly for the next two years. He also developed a passion for 20th-century and contemporary music performance. On his junior recital, he premiered a work for cello, piano, and folk singer, written for him by his friend and colleague Clay Gonzalez. In September 2015, he co-founded Converge: A New Music Collective, a group dedicated to the performance of works by student composers, which was one of the inaugural recipients of the University of Michigan's Performing Arts EXCELerator grants. Kellen graduated from University of Michigan in December 2016 with degrees in cello performance and mathematics.
Kellen currently attends the Cleveland Institute of Music, where he is pursuing his Masters of Music with Richard Weiss. He is a member of the Ashland Symphony Orchestra, and has also performed with the Canton, Akron, and Firelands Symphony Orchestras.