Jiří Trtík is a Czech composer and conductor. He is currently working towards the 5 years' Masters of Music overlap program at the Cleveland Institute of Music in the studio of Keith Fitch. He has studied composition with Jiří Gemrot and conducting with Hynek Farkač at the Prague Conservatory.
Jiří has received a number of commissions and performances from world-class performers and ensembles, such as members of the Metropolitan Opera's Lindemann Young Artist Development Program, Ančerl String Quartet, and The Kühn Mixed Choir. His works have been performed in Czech Republic, Slovakia, Germany, Latvia, United States, and Japan.
Jiří has also composed music for several Czech movies and theatrical productions, such as "The Hunch", "Zelená Vdova", "Jdi dál". He has participated in a several international masterclasses (Vocal Espoo 2014 in Finland, International Composition Masterclass in Latvia).
As a conductor, he has conducted performances of Mozart's Requiem, B. Martinů's Opening of the Wells, and J.J. Ryba's Czech Christmas Mass as well as he premiered choral works by several young Czech composers.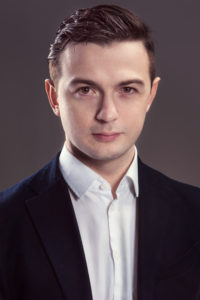 Jiří studied philosophy at the Charles University. He actively writes a blog about music as well as he organizes benefit concerts.