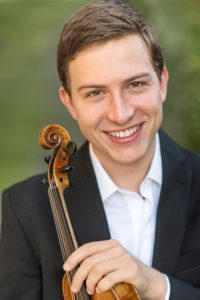 Violinist James Thompson, from Cleveland Ohio, is enrolled as a master's student at the Cleveland Institute of Music (CIM) with Jaime Laredo, having studied previously with William Preucil and Paul Kantor.
In 2014, Mr. Thompson was selected to solo with the Cleveland Orchestra at Severance Hall as part of the ensemble's education series. He has appeared as a soloist with numerous orchestras including the CIM orchestra, the Blue Water Chamber Orchestra, the Cleveland Pops, and the Cleveland Philharmonic, in addition to touring as a soloist with Cleveland Orchestra Youth Orchestra in the Boston area.
Mr. Thompson has been invited to attend numerous chamber music festivals, including Music@Menlo in 2017, the Taos School of Music from 2014-2015, and the Perlman Chamber Music Workshop in 2014. From 2008 to 2010, Mr. Thompson was invited to attend the Hotchkiss Chamber Music program in Connecticut, where he was selected to perform both an octet with the Orion String Quartet and as concertmaster of the Hotchkiss chamber orchestra. Additionally, he served as concert master of the CIM orchestra in 2014, the Brevard Music Festival Sinfonia in 2013, and the Cleveland Orchestra Youth Orchestra in 2012.
An active member of Cleveland's thriving local music community, Mr. Thompson has given many recitals throughout the city over the course of the past eight years in collaboration with pianist Julia Russ. As a chamber musician, he has collaborated with CIM faculty Brian Sweigart, Linda Jones and Daniel Shapiro, in addition to Cleveland Orchestra cellist Tanya Ell, as part of both CIM's faculty recital series and the Arts Renaissance Tremont series.
Alongside his performance career, James Thompson is establishing a strong reputation as a private instructor and chamber music coach. He is currently on faculty at the Aurora School of Music, in addition to maintaining an independent studio. In 2016, Mr. Thompson served as a teaching fellow at both the Encore Chamber Music Festival and the Western Reserve Chamber Music Festival. He views his work with children as an immensely important aspect of his calling as a musician, and is grateful to have the opportunity to share the joy he has found making music with young people everywhere.