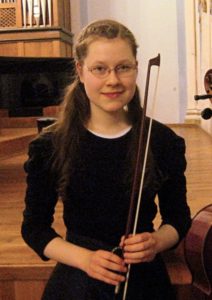 Ekaterina Ivanova-Martynova was born in 1999 in Moscow. She began her music studies at the age of four at the E. Svetlanov Music School with Ekaterina Polivanova and later with Olga Galochkina at the S. Taneev Music School in Moscow. Currently Ekaterina is studying at the Cleveland Institute of Music with Mark Kosower.
Ekaterina has taken part in several competitions and festivals, including "New Names of Moscow" Festival  (2008), "OpenEurope" competition (prize winner, 2012.), Moscow Competition for young violinists and cellists (prize winner, 2012), Tchaikovsky Competition for young musicians (Diploma of semifinalists, 2014), and International Bach Festival BWV-2015 in Moscow.
In 2016, her recordings were represented for the European Broadcast Union by Radio Orpheus. The repertoire included works by L. Boccherini, S. Prokofiev, A. Dvorak, B. Martinu, E. Bloch and M. Rostropovich.
She was a scholar of the New Names Foundation in 2008 and 2012. Apart from playing cello, Ekaterina composes music and makes transcriptions for cello and cello ensembles.