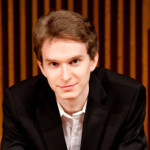 Alexander Malikov performs extensively around Canada and the United States. Notable engagements include appearance on Performance Today with the Minnesota Public Radio, performances at the National Arts Center in Ottawa, and playing both the modern piano and the fortepiano in collaboration with members of the New World Symphony and Michael Tilson Thomas.
He is also a composer and has recently premiered a chamber version of his piano concerto no. 1 in Cleveland with Gaddiel Dombrowner and Jodi Kanter's M.U.S.i.C Chamber Orchestra. Alexander regularly works with other composers and performs their works.
His previous teachers include Dmitry Nesterov at Mount Royal University, Angela Cheng at the Oberlin College, Julian Martin at the Juilliard School and Sergei Babayan at the Cleveland Institute of Music respectively. Currently, he is pursuing his Doctoral Studied with Anton Nel at the Butler School of Music at UT Austin.
He is a prize winner of several Canadian piano competitions, including the Knigge, TSO, OSM, and the Shean.
Besides his work as a musician, Alexander is a visual artist, and also loves hiking in the Canadian Rockies.