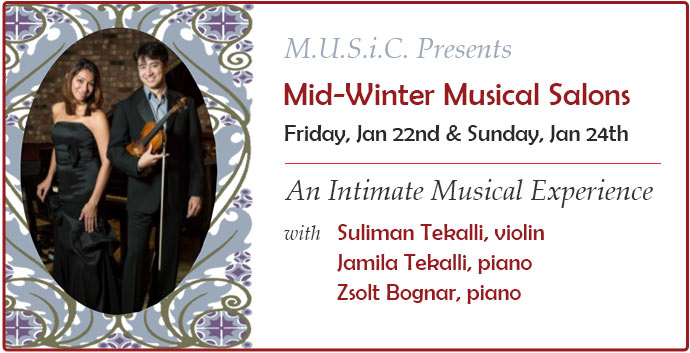 Dates:
Friday, January 22, 2016 – or – Sunday, January 24, 2016
Musical Program to include:
Original virtuoso arrangement of Chopin's Valse Brillante for violin!
Brahms violin concerto, sparkling intermezzi, and musical surprises from three of the most exciting young performers in classical music today.
Location:
Art-filled, historic homes in Shaker Heights (Friday) and Hart Manor on Fairhill (Sunday)
(addresses provided upon receiving reservations)
Time:
Friday: Doors open at 7:00 p.m. / Musical program at 7:30 p.m.
Sunday: Doors open at 3:30 p.m. / Musical program at 4:00 p.m.
Tickets:
$45 per person ~ Seating is Limited
(special student pricing upon request)