Dear Friend of M.U.S.i.C.,
I'm thrilled by the growing interest in live chamber music in Northeast Ohio. The success of M.U.S.i.C.'s 2014-2015 concert series, and other events across the region, shows that audiences are eager to hear great musical performances in a variety of venues. We're proud to note that M.U.S.i.C. is the only chamber music organization in Northeast Ohio to offer a lively mix of solo, group and vocal music on each program – played by concert professionals, recent graduates and top students from local conservatories.
Over the past year alone, M.U.S.i.C. has offered 11 unique chamber music concerts in intimate venues. There were programs in private homes, Orange Village Hall, and our popular Brunch and Concert. We gave performing opportunities to over 50 talented musical artists. We brought you pianistic virtuosos, cello, violin, string quartets, flute, harp, singers, and original music played by the composers themselves. Emerging musicians from our family of performers have gone on to win places in top orchestras and opera companies.
As artistic director, I work with musicians to offer a wide range of classical repertoire. Recent concerts have featured rarely heard and familiar pieces by Schubert and Mozart, and fresh sounds from 20th century composers such as Prokofiev, Piazzolla and Bernstein. We are particularly proud of the inter-conservatory collaborations we've initiated: bringing together professors and students from Cleveland Institute of Music and Oberlin Conservatory on the same programs and in ensemble.
People who know and love classical music have come forward with generous support for M.U.S.i.C. programs. They sponsor musicians and concerts and open their homes for M.U.S.i.C. programs. Along with individuals' support, we have earned grants from foundations and Cuyahoga Arts and Culture.
M.U.S.i.C. is here for audiences and musicians, and as our reputation grows, we are hearing from more top quality stars who are eager to play for us. The year ahead promises some remarkable performances. You'll hear them in our trademark "Classical Cabaret" concerts and intimate house concerts.
Thank you for your loyalty and support. We promise to keep the music coming via the talented emerging performers who help make Cleveland a world capital of classical music.
Warm personal regards,
Jodi Kanter, Artistic Director
---
From the President of M.U.S.i.C.
M.U.S.i.C. has been a presence in the Cleveland chamber music community for over eight years. Under the sterling leadership of Jodi Kanter, our Artistic Director, we have provided a wonderful array of performances that our audiences have overwhelmingly approved. The Board of Directors of M.U.S.i.C. works hard to assure the fiscal future of M.U.S.i.C. We are grateful to our generous donors. We hope to grow the number of members of the Circle of Sustainers, as well as our musician sponsorships. Our 2015 Benefit Concert takes place on September 27th. We hope to match and even exceed the success of last year's benefit. We look forward to your continuing support.
Michael Y. Bailis
Board President
---
Suliman Tekalli Ties for Second!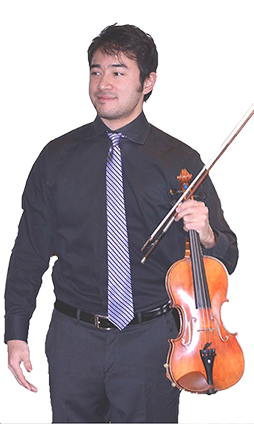 Suliman took second prize at the 2015 Seoul International Violin Competition (there was no first prize awarded). There were 48 competitors from 13 countries who performed in the live rounds.
Suliman graduated from the Cleveland Institute of Music in 2013 where he was a student of Joel Smirnoff, and is now attending Yale University. He will be returning to perform for M.U.S.i.C. again soon!
Stanislav Khristenko Wins First Prize!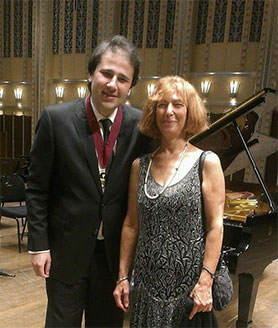 M.U.S.i.C. alumnus Stanislav Khristenko won two first prizes in 2013, from the Cleveland International Piano Competition and the Maria Canals International Piano Competition in Spain.
He became a Steinway Artist in 2015 and his debut album, Fantasies, was released on the Steinway & Sons
recording label in 2014.
Stanislav Khristenko and Jodi Kanter (photo)
---
More news about M.U.S.i.C.'s rising stars:

Fedor Amosov, cellist
Fedor has won the position of co-principal cello of the Bolshoi Theater Orchestra (Moscow).
Rixiang Huang, pianist
Rixiang Huang won a silver medal in the 2015 New York International Artists Piano Competition. He had his Carnegie Hall solo debut on June 30th.
Elliott Hines, baritone
Will be joining the International Opera Studio of Salzburg State Theater for the 2015-2016 season.
Elizabeth Tredent, soprano
Performed with the Chautauqua Opera, Sarasota Opera, Opera New Jersey, and the Lyric Opera of Kansas City.
---
What the musicians are saying
"It was a really great pleasure to play in a wonderful house with excellent musicians for an appreciative and welcoming audience. Looking forward to the next program."
–Alex Kostritsa, piano
"Seeing the great, supportive audiences come together with performers to keep classical music thriving in Cleveland is so exciting. Keep up the great work, and please pass on my gratitude to the board and patrons!"
–Lauren Carter, soprano
"It's not easy to find interesting opportunities to play in and be paid for. This was definitely one of them."
"Performing for an audience is always a valuable learning experience no matter what the occasion. M.U.S.i.C. allows me to perform for a musically-educated audience and allows me to hear important criticisms to better my craft."
–Armando Contreras, baritone
---
Why would you recommend M.U.S.i.C. to others?
(Comments taken from our audience surveys and post-concert emails)
"You'll be sure to hear something you've never heard before."
-Anonymous
"It's a wonderful experience to support young artists."
"Beautiful music, great musicians, beautiful setting."
–Christine and Mehmet G.
"[There are] heartfelt and enthusiastic performances and great musicians."
-Anonymous
"The quality of musicians is high. The concert is very well-produced."
-Allen H.
"Another fantastic display of amazingly talented musicians. And wonderful choices of pieces. Thoroughly enjoyed the afternoon."
-Peggy F.
"…a captivating few hours of rising musicians, collaborating in such a passionate way. One of the best ever."
-Pearl H.v
About last year's benefit at Beechmont Country Club
(Comments from our attendees)
"Your benefit "Celebrating Our Stars" at the Beechmont Country Club was one of your best M.U.S.i.C. concerts ever. Great food, great atmosphere, wonderful music selection, and a sensational performance by the M.U.S.i.C. International Chamber Orchestra and all the artists partaking in the program."
-Gregory W.
"The benefit on Sunday was truly "Glorious Music." The selections were terrific and, of course, the musicians were, too."
-Donna M.
---
M.U.S.i.C. alumni perform at Carnegie Hall
As part of the KEY PIANISTS series, M.U.S.i.C. co-founder Peter Takács joins M.U.S.i.C. alumni Boris Allakhverdyan (clarinet, Metropolitan Opera Orchestra) and Virgil Hartinger (tenor) in Carnegie Hall's Weill Recital Hall for recitals on October 18, 2015 and January 14, 2016, respectively.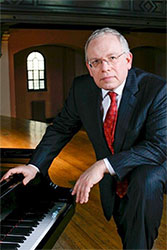 Upcoming M.U.S.i.C. Programs:
Save the Date
September 27, 2015
"Celebrating Our Stars"
Benefit Brunch, Concert, and Auction
Beechmont Country Club
December 6, 2015
Holiday Brunch / Concert
Private Residence (tba)
January/February 2016 (date tba)
Winter Musical Salons / House Concerts
March 2016 (date tba)
Classical Cabaret No. 13
May 2016 (date tba)
Spring Musical Salons / House Concerts
---
M.U.S.i.C. (Musical Upcoming Stars in the Classics) is
committed to providing intimate performance opportunities for emerging, world class musicians in Northeast Ohio, and beyond. M.U.S.i.C. finds venues, arranges concerts, provides programs, publicity, and refreshments, and pays performers. By its activities, M.U.S.i.C. provides enjoyment for audiences, helps launch new musical careers, introduces novel performance venues, and expands the audience for chamber music. M.U.S.i.C. aims to enhance Northeast Ohio's reputation as an international capital of musical excellence.
Board of Directors:
Michael Bailis • Frank Buck • Faye D'Amore • Julie Frazier Tuba Gokoglu • Allen Hart • Joan Houghton • Mia Kim Robert Knopf, Sr.• Carol Arnold Porter • Robert Villarreal
Artistic Director:
Jodi Kanter
---
Enjoy Music?
M.U.S.i.C. welcomes friends, volunteers and supporters
Please call 216.702.7047 or email: stars@intheclassics.org
---